Camping / Campout Party
Camping is a favorite tradition of many families. Make camping out even more fun with a camping themed birthday party. You can set up a tent in the yard or have a camp-in the the living room. Either way, your child will love a camping birthday party with friends!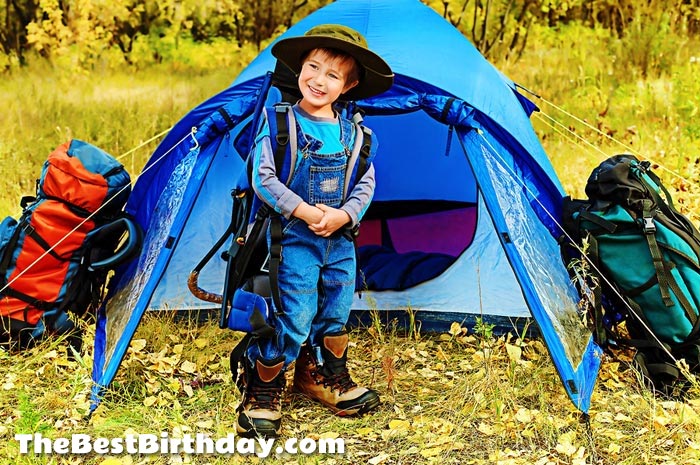 Camping Party Invitations
Make your own party invitations
Looking for a party invitation you can make yourself? Download this free camping party invitation (450kb PDF), then print it on colored paper. Add your party details to the inside and you have a super easy and free camping party invitation.
Camping Party Decorations
Turn your home into the great outdoors! Move any house plants you have into the party room. Decorate with vines (made by twisting green streamers) along with plastic bugs
 and toy snakes
. Use stuffed animals to for wildlife.
You can also set camping gear out in the room - backpacks, sleeping bags, lanterns, etc. Set the mood with a campfire in your living room (see below).
Make an artificial campfire
Things you need:
How to make it:
Cut cellophane into triangles to make flames
Arrange rocks in a circle for a firepit
Tape some of the flames to the fan
Put fan in the center of the firepit
Arrange lights around the fan
Arrange sticks or logs in a teepee shape over the fan and the lights
Tape the rest of the flames to the underside of the logs
Turn on the lights to make your fire glow
Turn on the fan to make your flames flicker
Camping Party Food and Snacks
Camping-style food is easy to make for a party. Go with hot dogs, chips and dip, potato salad, baked beans and lemonade. These are really easy to make up for a large group.
As a special treat, let the kids have smores. They're easy to make in the microwave if you're having an indoor party.
Camping Birthday Cakes
Camping in the Woods Cake
Bake a regular sheet cake, then decorate it with camping items for a 3 dimensional look:
Tent
Put 2 graham crackers together to make a tent. Frost them if you like. Or, use Hershey bars for this.
Sleeping bags
Fruit rollups rolled up make great sleeping bags. You can also roll one out inside your "tent"
Campfire
Use pretzel sticks or Tootsie Rolls for logs and candy corn for flames. You can also use the birthday candles for real flames.
Pine trees
Upside down sugar cones coated in green frosting
Rocks
Add a few jellybean rocks around the campsite
Camping Cake Kit
Need a quick and easy camping party cake? Try this Camping Cake Kit with Light up Tent
.
Camping Party Games and Activities
Hide & Seek
This is a fun outdoor game if you've got the space. You can play it indoors, but it can be chaotic during a party.

Frisbee
Fun at outdoor parties. Make sure you have enough space and keep the throwing area clear of passersby!
Bubbles
Kids love bubbles. They are easy, affordable, and fun!
Scavenger Hunt
Hide items around the house or outside and have kids find them. For younger kids or a party with guests of all ages, this works best if you give them a list of what to find. You can incude a picture of the item, too. Then each person finds one of each item, ensuring that younger guests aren't left out.
For camping party scavenger hunts, hide plastic bugs and toy snakes, or other fun items that represent the great outdoors.
Obstacle Course
This is best for an outdoor party, though you can do a mini version inside. Be creative - use boxes, create tunnels, give them things to run around while they explore the "wilderness".
Find the Wild Animals
This game works outside or indoors. Set stuffed animals around the area where they may not be easy to notice, but can be spotted. Give each guest a list of the animals (include a picture for small children), a pencil to mark items off, and a pair of binoculars. Let them try to find - but not disturb - each animal.
Camping Party Favors
Uno
Uno is a favorite game on many family campouts. Send camping party guests home with their own mini deck of Uno cards
.
Flashlights
All campers need flashlights
. Give them as party favors that guests can enjoy during the party.
Creepy Crawlies
Plastic bugs and toy snakes are always fun for kids, and they are affordable for you!
Binoculars
You can use toy binoculars in party games, then send them home with guests after the party.
Compasses
Small compasses on a carabiner clip are a fun party favor for a camping party. Kids can clip them to backpacks or beltloops before they head out on their next adventure.
Bracelets
Kids love Silly Bandz style bracelets, and these Zany Bandz Camp Wig Wam Bracelets
come in fun camping shapes.