Cars the Movie and Cars 2 Birthday Party
Cars is a great family movie about a racecar who learns that the winner isn't always the one who crosses the finish line first. Disney and Pixar created an instant classic with the first Cars movie, and the Cars sequel is just as much fun than the first!
A fun family movie with a great message also makes for a great birthday party. Look below to read through these great ideas for a Cars the movie Birthday Party!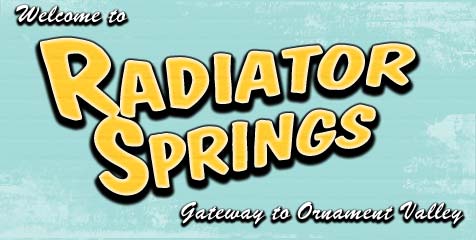 Cars Birthday Party Invitations
Want to make your own cars themed birthday invitations? (Free is always good!) Try a checkered flag, a trophy, or even a Route 66 Highway sign!
Clicking on this sign will open up a larger version. Save it, print it on card stock, cut it out if you like, and add party details to the back. You can use basic details - who, what, when, etc - or be creative. Try "Join us for a journey on the Mother Road to scenic Radiator Springs..."
Cars Birthday Party Decorations
There are a couple of directions you can go when decorating for a Cars movie themed birthday party. You can go with a Route 66 / Radiator Springs theme decor, or try racecar party decorations - or maybe some of both!
Billboards
For Radiator Springs, the effect is in the details! The first Cars movie was loaded with great retro billboards, and you can recreate the effect using posters you can make yourself.
Remember the great "Welcome to Radiator Springs" billboard? Make one with posterboard and markers and stick it at the end of your driveway. You can modify it to say 'Gateway to [child's name]'s Birthday Party'!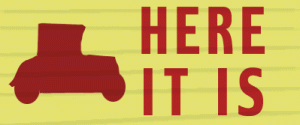 How about the simple 'Here It Is' billboard that was located next to the souvenir shop? Let all your party guests know where the fun is - Put one of these on your front door, or outside of the party room!
Route 66
Let everyone know they've found the Mother Road with Route 66 signs. There's a printable one up in the "invitations" section.
Leaning Tower of Tires
Use Luigi's Tower of Tires from the first movie as a centerpiece. You can make it out of chocolate mini doughnuts held together with skewers.
Cars Party Theme Tableware
Cars Party Food and Snacks
Race Day Foods
For your Cars Theme Birthday Party, you can serve 'Race Day' foods if you're serving a meal. Try hotdogs, popcorn - the sort of food you would get at the races. These are easy to prepare for a large group, and most kids will enjoy them.
Fun Foods
Serve round crackers (like Ritz) and call them wheels.
Grape Kool-Aid or chocolate milk both make great 'oil' to drink.
Carrot sticks and celery sticks with vegetable dip make great 'dipsticks'.
Try pistachio ice cream for dessert. Not wasabe like in Cars 2, but actual pistachio ice cream!
Cars Party Birthday Cakes
Looking to make your own cake for a birthday party based on the Disney Pixar Cars movies? There are a lot of great options for a Cars cake that are easy to do yourself.
Tire Cake
One super-easy cake option for your Cars Party is to make a tire - either racing or whitewall! Just make a round cake - 2 layers for added depth - and add chocolate frosting. For racing wheels, add the rim in the center, and use white icing to write the tire brand - 'Lightyear' - around the outside. (A little nod to another Disney Pixar character?)
If you prefer the classic whitewall look, add a frosting hubcap to the center, and use white frosting to add the white stripe around your wheel.
Racecar Cake Pan
3D Racecar Cake
If you're feeling ambitious, you can make a 3D racecar cake. To do this, you need to bake (2) 9x13 cakes. When cooled, stack the two cakes on top of each other. Cut several inches off of one end of both cakes, so your main part is a good car length. Put the pieces you cut off onto the top of the cake to build up what is the windshield/roof area of the car. You can use a knife to angle any edges of the car you like and add an angle to the windshield.
When making a cake that is cut like this, you need to be sure to do a 'crumb layer' of frosting before doing the main frosting. Directions for the crumb layer are on the Party Tips page.
Frost the cake to look like Lightning McQueen, or the car of your choice! You can use chocolate mini doughnuts for the wheels - add whitewalls if you like!
Cake Toppers
You can get a Disney Cars 2 Cake Topper
that comes with Lightning McQueen and Tow Mater. Your birthday child can play with them long after the party is over.
Cars Party Games and Activities
Make License Plates
This is fun and easy craft activity for all ages. Give each party guest a piece of craft foam (construction paper works fine, too) cut into the shape of a license plate. Set out a number of craft items to decorate them with.  Some ideas for decorations:
Sticker numbers and letters (mailbox number stickers works
Pipe cleaners (these bend nicely into numbers)
Stickers
Craft foam cutout shapes
Sequins
Kids will turn their license plates into glorious works of art that they can keep long after the party is over.
Obstacle Course
Kids love obstacle courses, and it's a great way to burn off some excess energy. Use your imagination to set up a Cars theme obstacle course. Use construction cones, send them around trees, through tunnels, whatever you like. Let them practice their moves and see how they handle the course.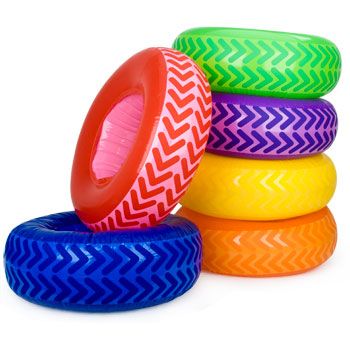 If your course doesn't involve any crawling, you can cut out steering wheels from cardboard and let them 'drive' their way through the course.
You can also buy this fun and easy inflatable tire obstacle course.
Cars Scavenger Hunt Party Game
Scavenger hunts are an easy and fun way to keep party guests engaged. With this Cars scavenger hunt kit, you hide the character cards and let the party guests go to work finding them. They pick a card to see which four cards they get to collect, then race to find the matching cards as fast as they can.
Balloon Racecars
These balloon powered racecars
are a lot of fun! Give one to each guest and let them race each other. Then they can take the cars home as a party favor.
Sticker Activity Books
These Disney Cars Activity Books with Stickers
include games and space to put the included stickers. These make great startup activities for when the guests are arriving. Hand each guest a book as they come in and they can play with it until everyone has arrived.
Cars Party Favors
Trophies
Give party guests their own Piston Cup! Plastic trophies are cheap enough to get them for everyone.  You can put candy in them and set them out on the table as decorations, you can use them as prizes for a party game, or send them home in loot bags.
Keychains
Kids will love these Cars 2 Lightning McQueen keychains and they're so affordable that you can send one home with each party guest. After the party they can clip them on backpacks, hang them in their rooms, or maybe even use them for keys!
Tow Mater Hats
Turn your guests into Tow Mater with these wacky and fun Cars Tow Mater hats
.
Favor Boxes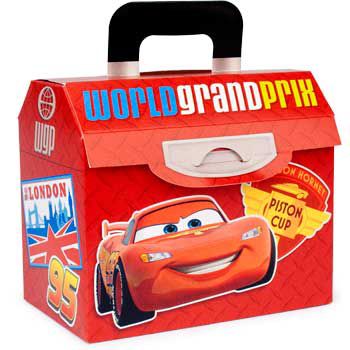 Send party favors home in this die cut Cars Party Favor Box that assembles into a lunch box shape.