Luau Party / Beach Party Ideas
Summer or winter – it's always a great time for a beach party!
Luaus are popular parties in the summer months when the weather beckons us outside, yet they're also perfect for winter when you need a bit of summer to get you through! Whether your child likes hula and limbo or prefers sipping tropical smoothies, this is a great party for all seasons.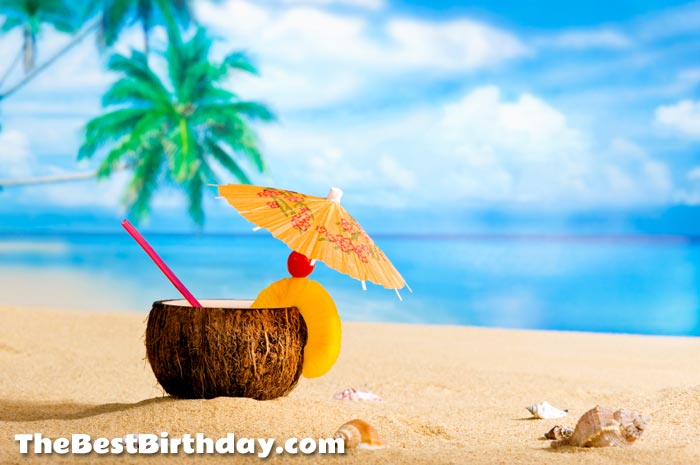 Check out our great party ideas to have a luau or beach party for your child's birthday!
Luau Invitations
Unique invitations you can make for your luau or tropical beach party. Read through the great ideas below to find the one that's perfect for your party!
DIY paper invitations
All you need is to find an image you like, then add your party details and print it. You can either it print it as a square or rectangle shape, or cut it out so your invitation is the shape of  the image. Here are a few possibilities that may great beach party invitations:
Palm tree
Surfboard
Aloha Shirt
Postcards
These make super easy and unique invitations to your luau! Just get some Hawaii postcards,
add your party details to the back, and mail them to party guests.
Airline Ticket Invitations
These are so easy to do! Use a rectangular piece of paper and add "airline" information:
Passenger: (Guest's name here)
Destination: (Party address here), just outside Waikiki (or paradise, or whatever you like)
Arrival: (Party date and start time)
Departure: (Party end time)
Flight number: 010496 (Child's birth date)
You will need text explaining that this is a luau or Hawaiian party, which you can put on the back.
Sample invitation text:
Aloha! Join us for a tropical luau celebrating the birthday of (child's name). There will be hula, limbo and pupus. Be sure to wear your island attire!
Beach Party Decorations
Try these great luau decorations for your party:
Surfboards cut from cardboard and painted
Tropical Posters on the windows
Use Beach Towels (especially tropical print) as wall hangings
Table Skirts of cut garbage bags or raffia table skirts
Tiki Torches
Bowls filled with sand & shells as centerpieces
Serve crackers or chips in a straw beach hat
Make a 'Tiki Bar' or 'Snack Shack' --Use raffia to decorate an area of your house (this is great for a deck outside, or maybe your kitchen or a breakfast nook for an indoor party) to look like a grass hut. Make a 'Tiki Bar' or 'Snack Shack' sign. Serve fruit smoothies, or set out the snacks here.
Luau Party Tableware
Bright Colors
Think bright and bold for your luau tableware. Mix it up a little - red plates, yellow napkins - all the colors of the flowers of Hawaii. And don't forget the drink umbrellas
!
Luau Party Food & Snacks
Serve food fit for your King Kalakaua or Queen Liliukolani.
Pineapple
You can't have a luau without pineapple! Here's how to cut and serve a fresh pineapple:
Remove the top by twisting it until it pulls off
Cut the pineapple down the middle, starting at the top and slicing the long way down
Cut each pineapple half in half again, still the long way
The center or core area of the pineapple is tough. Cut out the center by slicing it off the long way
Cut slices into the pineapple by starting from what was the core and slicing down close to the rind
Start at an end of the pineapple and cut along the rind under the cuts you made
Serve the pineapple in the rind
Goldfish Crackers
Kids love these, and the fun fish shapes are a perfect fit for a luau or beach party.
Tropical Fruit Smoothies
Pick your favorite tropical fruit, mix in some fruit juice and ice, and blend until smooth
Fruit Kabobs
Put chunks of fruit on skewers - bananas, pineapple, whatever you like. Top them off with a maraschino cherry.
Luau and Beach Party Cakes
This great pool party birthday cake was sent in by Tracy S. in Florida. It has blue Jello in the pool, and has Teddy Grahams sitting in gummy Life Saver life rings.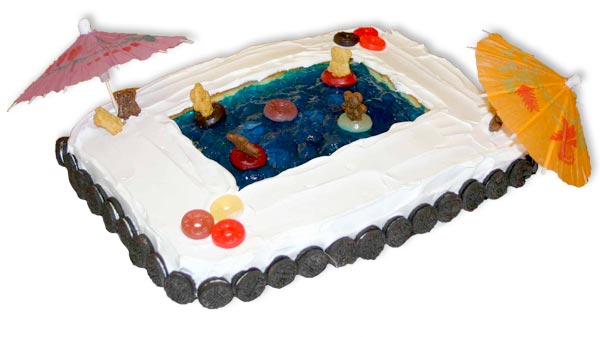 Luau and Beach Party Games and Activities
Lei Making
Cut flowers from colored paper. Use a paper punch to put holes in the center. Cut colored straws into 1 inch pieces. Let kids string the flowers and straws into a length of yarn.
Hula Hoop Contest
Make sure you have enough space! Give kids a hula hoop and let them test their skills.
Pineapple Bowling
Set up three pineapples and use a heavy ball - like a basketball or bowling ball - to knock them over. Or you can buy this island bowling kit that comes with ten plastic pineapple bowling pins and two plastic coconut balls.
Limbo
How low can you go? Set up a limbo set and see who's the most flexible.
Pin the Monkey on the Palm Tree
Try  a tropical variation on the classic party game.
Pass the Coconut
Play a game of hot potato using a coconut.
Decorate Coconuts
Give each guest a coconut and set out markers or paint, googly eyes, and other craft items. Let guests decorate their coconuts. You can take a group picture of all the kids with their coconuts, and send it in the thank you card.
Hula Dancing
Get a hula dancing DVD
. Play it for party guests and let them follow along.
Sand Castles
You need a kiddie sandbox and sand for this. Put some sand toys in the sandbox, add a little water, and let the kids build sandcastles.
Luau and Beach Party Favors
Leis
Greet guests island-style with a Hawaiian lei! If you're planning to make paper flower leis as one of your activities, greet guests with a shell lei
.
Beach Bucket and Shovel
Use beach buckets and shovels
in place of goodie bags, putting smaller party favors inside of them.
Beach Balls
You can use inflatable beach balls
for party games, or send them home in a goodie bag.
Sunglasses
Sunglasses are fun accessories at a beach party.
Grass Skirts
Make grass skirts with green crepe paper tied to elastic, or by cutting the bottoms of drawstring garbage bags.