Princess Party
Whether it's fairy princessess, Disney princesses, a favorite fairytale, or celebrating the royal wedding of Prince William and Kate Middleton, girls love to put on their finest and be princess for a day. Give your special princess a birthday she'll never forget by throwing her a princess party where all her dreams come true.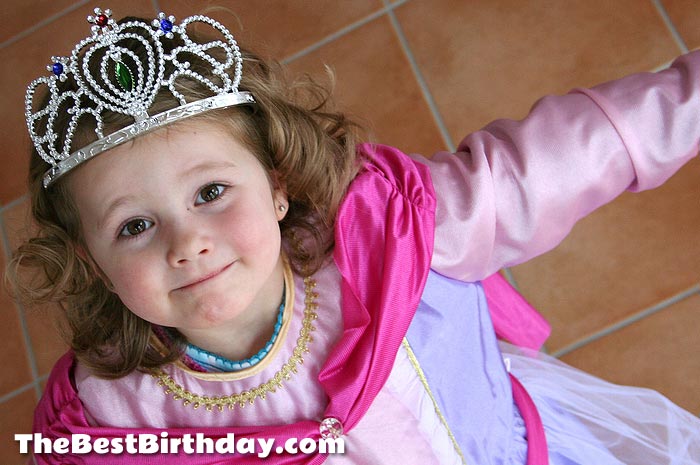 Princess Party Invitations
Royal Announcement Invitations
Try using calligraphy (or a script-type font) on parchment paper, then rolling it up to make a scroll. Tie it with a satin ribbon. For an added touch, tie it to a tiara and hand deliver to invited guests.
If you prefer not to use scrolls, seal your invitations with wax seals
for an added touch of sophistication.
Pretty Princess Invitations
Another do-it-yourself option is to add your child's face to a princesses body. You can do this easily at faceinhole.com. Search for "princess" to see the options available. Print your photo creation and use it for the invitations. You can also take pictures of party guests and do the same for them, sending the finished photo along with the thank you note.
Princess Party Decorations
Decorating for a princess party means going over-the-top - princesses expect nothing less! Guests will know right away this is a fancy affair when you roll out a red carpet for them.
Pink is a traditional theme color for princess parties, but if you're looking for something different, try royal reds and purples for a sumptuous royal look. Or, go with gold and silver for rich elegance and glamour.
Princess Castle
Turn your home into a princess castle for the party. With a roll of roll of flagstone paper
, you can turn an entire room into a castle. It looks amazing, and doesn't cost very much.
Tableware
Pink is always a popular color for princess parties. Pair purple plates with pink flatware for a regal touch.
Princess Party Food and Snacks
These dainty snacks and tasty treats are sure to be a hit at your princess party!
Sandwiches
Use cookie cutters to trim sandwiches into fun shapes. You can make them stars, hearts, tiaras - whatever you can come up with and find the cookie cutters for.
Fruit Platters
Fruit platters are easy, elegant, and healthy options for your party. Put clusters of fresh flowers around the tray for a beautiful centerpiece. Make sure the flowers don't get eaten by little ones, though!
Magic Wand Treats
Dip pretzel rods in white chocolate, then roll in star-shaped sprinkles or colored sugar. You can also top with a Rice Krispie treat shaped like a star.
Magic Wand Fruit Treats
Slide pieces of fruit (strawberries, grapes - whatever you like) onto a wooden skewer. Slice a starfruit to give you star shapes and place one at the top of the skewer. You may want to remove skewer tips for younger children.
Party Drinks
Pink lemonade is an easy drink that's perfect for a princess party.  Or you can make punch and serve it in pretty plastic goblets.
Princess Birthday Cakes
There are a lot of options for beautiful princess birthday cakes that you can make yourself.

Castle Cake

This Wilton romantic castle cake set
makes an amazing castle cake that party guests will be talking about for a long time to come. It takes planning and patience to make it, but chances are you'll find the end result was well worth it.
Be sure to check out the reviews on Amazon
for helpful tips on making this cake.
Princess Party Games and Activities
Coloring Castle
This makes a royally fun arrival activity. As party guests arrive, let them help decorate this cardboard coloring castle. The birthday princess can have it as a nice keepsake after the party.
The castle measures 32H, with open-air "courtyard" so kids can stand up in the middle. Markers are not included, so make sure you have some on hand.
Pin the Crown on the Princess
Draw up a princess, draw up and cut out a crown, and make your own party game. Another variation is pin the kiss (a cut out set of lips) on the frog.
Not so confident in your artistic abilities? You can buy a pin the crown on the castle game.
Tiara Craft Kit
This is a fun party activity that party guests can wear at the party, and take home to play with when the party is over. The tiara craft kit comes with foil tiaras, glue stick, stickers, and pom poms. Your little princesses will love making their own tiaras.
Make Your Own Wands
Set out dowel rods, craft foam cut out in heart or star shapes, sequins, glitter, ribbon, and other craft items. Let party guests use their imaginations to create beautiful wands they can play with at the party and have as keepsakes after the party is over.
Princess Party Favors
Jewelry
Princesses love beautiful jewels and things that sparkle. Give them rhinestone rings or other fun jewelry.
Tiaras
Elegant tiaras are always in fashion with princesses!
Feather Boas
Girls love to play dress up with feather boas. They make for creative make-believe play, and your party guests will love trying them on at the party. Be sure to have a mirror nearby so they can see how beautiful they look!
Magic Wands
Every good fairy tale needs a little magic. You can buy them or have party guests make their own. (Instructions are farther up, in the Games & Activities section).