Secret Agent / Spy Party
Your mission: Throw your child a great spy-themed birthday party. Secret codes, high security, everyone knows the password to fun is 'spy party'!
If your child is a fan of Phineas & Ferb, Spy Kids, Agent Cody Banks, Mission Impossible, James Bond or Totally Spies, a spy party is sure to make your Secret Agent's special day be the best birthday ever.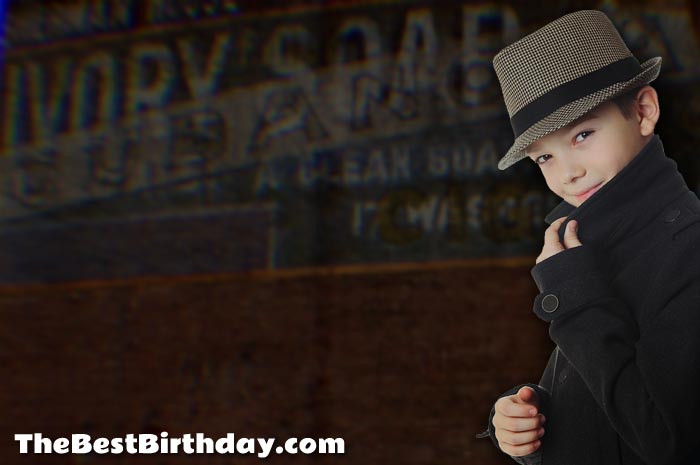 Secret Agent Birthday Party Invitations
Secret Code Invitations
These are cool party invitations that are easy to make yourself. First, you need to create a secret code. The easiest way to do this is with a font like Wingdings. Type every letter of the alphabet, then change the font to Wingdings or another symbol font. Type the regular alphabet underneath your "coded" alphabet. This gives you a "Cipher Card" that you can use to read or write in code.
Download a sheet of Cipher Cards formatted to print on business card paper. (.doc)
The next step is to create the invitation, putting certain words into code - just use the Wingdings font to type them.  Send each guest the invitation and a cipher card so they can translate the coded words. The cipher cards can also be used for the Secret Code party game (see below in the Games & Activities section).
Try out this text for your invitations, putting the words in [brackets] into your font code:
Attention all secret agents: Your presence is requested for a top secret mission. There is a [birthday party] for Agent 0025. Password for entry is [password]. Use the cipher card to decode secret words. See full mission details on the other side of this document.
Print the party details on the reverse side - child's name, party date, location, etc. Add an official looking seal or logo to finish it off. The example below shows the CIA seal. You can see the CIA seal and learn more about it on the CIA website.
Sample spy party invitation: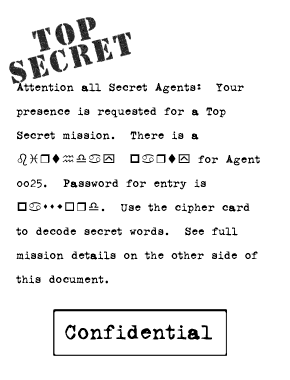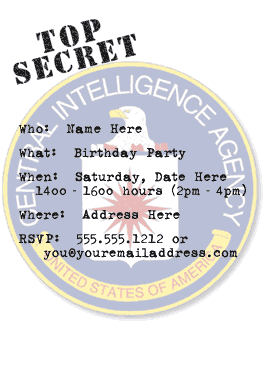 You can mark your invitations "Top Secret" with a "top secret" rubber stamp
. For delivery, you can put the invitations in forensics evidence bags
and seal them with evidence box sealing tape

.
Spy Party Decorations
HQ
Set up the party room as "Headquarters" or "Top Secret Base" - post a sign on the door. Be sure to add some "Authorized Personnel Only" signs, too.
Retina Scan
Get a small cardboard box. Cut a hole - about eye-size - on one side. Place a mini-flashlight inside, pointing up so it illuminates the hole without blinding anyone. Set up the box child-level outside the party room, with a sign that says "Retina Scanner".  Partygoers have to pass the eye scan before entering. You can add a small pad for a pretend thumbprint scan, too.
Crime Scene
Place crime scene tape
strategically around the party area.
Chalk Outline
Add a chalk-outlined victim to the sidewalk or driveway outside if you're having the party at home. If you don't want "bodies" laying around, try chalk shoeprints leading up to the door instead.
Police Lights
Police lights
make great party decorations and are reasonably priced, too.
Secret Agent Music
Create a playlist of all the best secret agent music
and play it in during the party.
Spy Party Tableware

Black tableware is a great choice for your spy party - mysterious and sophisticated, just like all the best secret agents! Try black plates with silver cups
and napkins for a hi-tech look.
Party Food and Snacks
For those sophisticated kids who prefer their party beverages shaken, not stirred, try serving Shirley Temples in plastic martini glasses. For those who don't know, Shirley Temples are non-alcoholic drinks made with either ginger ale or lemon lime soda like 7 Up, and grenadine. You don't have to call them Shirley Temples - not a terribly cool name for a secret agent drink! Call them whatever you like, add a couple of cherries to a plastic sword, and you'll have the most sophisticated spies around.
Secret Agent Birthday Cakes
Bomb Cake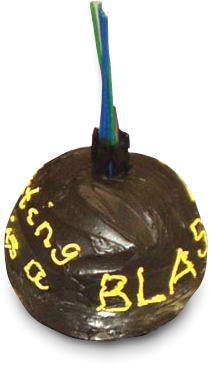 For your spy-themed birthday party, bake a cake that's really 'the bomb!' This cake is easy to do; you just need a sports ball cake pan
.
Follow the directions for the pan, then frost black. You can add black paste food coloring to chocolate frosting for a good, true black. If you don't want to have black frosting - it does color your teeth - you can also frost with chocolate frosting.
The cake in the picture has black licorice added to the top to make the base for the fuse. Tall, slender candles make the fuse. You can also use a sparkler for a fuse, but be safe and keep in mind that you can't blow it out like you can candles.
Secret Agent Party Games and Activities
Secret Agent ID Cards
Make an ID card with space for important information - name, code name, specialties, etc which you can print up for each child. Let them fill in the blanks when they get there. You can leave space for a photo, then take one with a digital camera as the guests arrive, print them off, and put them on the cards. An easy way to do this is to print the pictures on sticker paper, then just cut them out and stick them to the card. If you create business card-sized ID cards, you can print them on business card paper, which separates easily - no cutting!
You can also print a free Junior Special Agent handbook on the FBI website.
Fingerprinting
Have your Secret Agents take turns fingerprinting each other. Just for fun, do it on an FBI fingerprint card, which you can get here:
http://www.fbi.gov/about-us/cjis/background-checks/standard-fingerprint-form-fd-258
You can get a free "Junior Fingerprint Expert" card to print from the FBI website, too.
Be aware that fingerprinting can be messy! Use inkless fingerprint pads

which are much less messy than traditional ink pads, and require a lot less clean up. You may want to practice fingerprinting before the party, so you know how much ink to use an how to roll the fingers to get a nice, clear print.
Defuse the Bomb
Take either the goody bags or prizes and tie a long piece of yarn to each one. String the pieces of yarn across the room, going over, under, and around the other pieces of yarn - as well as any furniture you'd like to include in this crazy maze. Leave the ends of the yarn available for the party guests.
Each guest takes an end and has to follow their 'wire' all the way to the other end to 'defuse the bomb' and collect their prize. This game can get a little crazy, but kids love it. It also works well as an outdoor game.
Secret Mission
All spies need a mission! Send partygoers on a quest to locate their goody bags or other prizes. Give each guest a pencil and paper and a Cipher Card. Instructions for the Cipher Cards & Secret Code are in the Invitation area of this page.
Before the party, you need to create a series of small cards with instructions written in code. The instructions are actually the names of locations where you have hidden other instruction cards with additional locations.
The first card gives a location to look for the hidden items (under a chair, on the bookcase, etc). They have to decode the message using the cipher cards to find the location.
When they arrive at the location, there is another card waiting for them. The second card has further instructions (under the couch, or whatever you like).
Send them to 4 or 5 places - how many you choose should depend on the age/attention span of party guests. Eventually the clues lead them to the final location of the prize.
Obstacle Course
Everyone knows that Secret Agents must be in top physical condition. Send your junior spies on a mission that will test their strength and stamina with an obstacle course.
Outdoor obstacle courses can include balance beams (2x4 laid on the ground), water hazards (wading pools) - whatever you can think of. Keep them safe, and consider the age of party guests when creating obstacles.
Indoor obstacle courses are fun, too. A blanket laid over two chairs has amused kids for generations! You can include a mini trampoline, tunnels of cardboard boxes - whatever you can fit into the space available.
Consider giving certificates after completing the obstacle course, saying they completed their spy training.
Pinata
For a great spy party pinata, get a bomb. Not a real bomb, of course, but a pinata that looks like one of those old cartoon bombs. Bomb pinatas are not easy to find, so what you need is a round pinata - like a baseball pinata
- and spray paint it black. For a little added flair, you can glue a piece of string or a wire to the top for a fuse, and paint a nuclear symbol on the side. Now let your secret agents put it out of commission!
Musical Chairs
Play a game of musical chairs using spy music
.
Spy Party Favors
Police Badge
Your secret agents will love carrying around a badge. These metal police badges
are affordable enough to give one to each guest.
Badge Holder
Party guests will love attaching their badge to this clip on leather badge holder
with chain.
Handcuffs
Make catching the bad guys easy with these metal handcuffs
.
Sunglasses
Spys need disguises, and sunglasses make a quick and easy disguise. You can choose from traditional spy sunglasses
 or try these rearview spy sunglasses
 that let you see behind you.
Mustaches
Your little spies will be nearly unrecognizable when they're wearing fake mustaches!
The really great thing about fake mustaches - other than how they make you look amazing - is that everyone loves them: boys, girls, kids and adults. Be sure to get extras!
Evidence Bags

Forgo the usual goody bags; instead put party favors into a big manila office envelope
or forensics evidence bags
 and mark the outside 'Top Secret', 'Confidential', or 'For Your Eyes Only'.
Squirt Guns
Kids will have a blast playing with squirt guns at an outdoor party. Have an indoor party? Put them in favor bags so kids can play with them at home.
Magnifying Glasses
Junior detectives will have no problem finding clues with a magnifying glass.
Toy Binoculars
Let your spies track down the bad guys with their own set of binoculars.