Cowboy / Cowgirl / Western Party
Howdy pardners! It's time to round up all the cowboys and cowgirls for a western theme birthday party. Whether your child is into rodeo, horses, or the wild west, this is a fun party for everyone. So saddle up and put on your favorite hat, we've got a party to plan.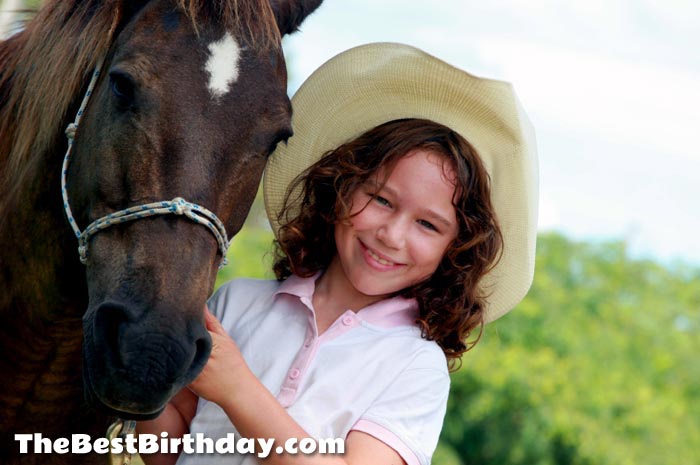 Western Birthday Party Invitations
There are lots of fun option for western birthday party invitations.
Make Your Own Wanted Poster Invitations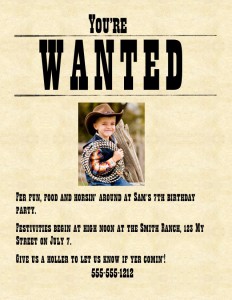 These are so easy to make yourself! Pick a western font, add a photo of the birthday child in western gear to the center, type your text and you've got your personalized Wanted Poster Birthday Party invitations.
Print them on parchment paper, then tear and burn the edges for an authentic old-west look.
Brand Your Envelopes
Seal envelopes with your own wax-seal 'brand'. You can create a brand (as in for branding cows) and use it to seal envelopes. Create one using one of your child's initials, or whatever you like.
Create the seal out of Sculpey
 - just shape a handle and a flat round bottom and carve your brand in the bottom with a toothpick. Remember to do it in reverse so it stamps the right way.
For the wax, try glue gun sealing wax
. It fits in your mini glue gun so there is no burning or melting, and it is softer than traditional wax so it mails better. Comes in a variety of colors, too!
Note: If you make your own seal out of  Sculpey, spray it with cooking spray before each use and let it sit on ice between uses. This will make the wax release from the Sculpey easier.
Western Party Decorations
There are so many decorations that look great at a Western Party! You can use southwestern decorations, 'cowboy' decorations, ranch decorations, and more!
 Hay Bales
Set hay bales around for decorations. Have a saddle (or know someone who has one you can borrow)? Set it on a hay bale and let kids go for a 'ride'.
Take pictures and send them to guests with a thank you note!
Wanted Posters
Make your own Wanted Posters - easy to do on your computer. You can use a picture of the birthday child or other family members, too. Give them a fun name ('Lucky Luke' or whatever). For crimes, you can go with traditional wild west crimes like Cattle Rustlin', Horse Thievin' or Gun Slingin' or make up fun crimes such as Cookie Stealin' or Horsin' Around.
You can make these on paper bags for an aged look. Cut paper bags to a proper size for your printer, and print right on the bags. Make sure the bags aren't too wrinkled, though, or they may become stuck in the printer.
Tableware
Bandana Print
Bandanas are a traditional western look, and these
bandana print plates
will look great on your party table.
Party Food and Snacks
Food for a western party can be easy! Serve beans and franks or hot dogs and chips. You can pair it with corn on the cob or sweet cornbread (see recipe below).
Serve food in pie tins - just like eating 'out on the range'! Hang a sign that says 'Chuck Wagon' over your dining area. Label the area where your drinks are 'Saloon'.
Drinks
Sasparilla

- old fashioned root beer in brown bottles

Cactus Juice

- Green Kool Aid or juice and lemon lime soda. Add lime sherbet if you like.
Snacks & Treats
Small bags of trail mix

Serve chips, peanuts or popcorn in straw cowboy hats lined with napkins

Set out chocolate no-bake cookies and label them 'cow pies'.
Ono-Licious Cornbread Recipe
This is a recipe for sweet cornbread that kids love! 'Ono' is the Hawaiian word for 'good', and this recipe came from someone in Hawaii. Yes, they have cowboys in Hawaii, where they are called paniolo.
8"x8" pan
3/4 cup butter
1 1/2 cups Bisquick
3/4 cup sugar
1/2 teaspoon baking soda
3 tablespoons corn meal
3/4 cup milk
2 eggs, slightly beaten
Preheat oven to 350°. Grease pan. Melt butter and gradually add to dry ingredients. Stir in milk and eggs. Bake at 350° for 25-30 minutes.
Western Cowboy/Cowgirl Birthday Cakes
Cowboy Cake
For a Birthday Cake for your Cowboy or Cowgirl, you can add plastic cowboy figures to a cake. Build a fence out of pretzel sticks stuck together with icing.
Instead of piping a frosting border around the edge, make a 'barbed wire' border out of black rope licorice. Take a piece long enough to lay around the outside edge of the cake. Take another piece and tie around the long piece. Trim to make the barb. Keep adding barbs every couple of inches unitl they go all the way around. Lay the 'wire' around the outside edge of the cake.
Pony Cake
The Wilton Pony Cake Pan
 is an easy way to make an amazing cake that your birthday child will love. Pour the cake in the pan, bake it, then decorate as you like giving you lots of style options.
Party Games and Activities
Pan for Gold
This is a fun activity for kids of all ages! It requires a sandbox or a large tub of sand (Kiddie pools filled with sand work great for this too). You need to buy 'treasures' to put in the sand, such as marbles, beads, colorful stones, jewels, etc.
Mix the treasures around in the sand, then give each child a cup (one or two at a time is probably best, based on the size of your sandbox). Keep some extra treasures aside so you can replenish the sandbox. You don't want to end up with the first few gold miners getting all the treasure!
Let them scoop one cupful of sand and pour it into a strainer. For strainers, you can use beach toy sand strainers, flour sifters, or a pie pan with holes punched in the bottom.
They shake the sand from the strainer, leaving them with their treasures. You can make your own loot bags to give the kids to hold their treasure, or use paper lunch bags decorated with cowboy stickers or designs. You can let them decorate their own bags as a party activity.
Rope 'em Cowboy
This requires a rope and something to be roped. You can use a large stuffed animal, kid's rocking horse, or build something yourself. Use the rope as a lasso and let each guest try to rope your horse or steer.
Snake Drop
Set out a cowboy boot. Have each child try to drop a rubber snake (also works with a bean bag or a clothespin ) in the boot. For older kids, have them stand farther back and try to toss it in. For very young children, use a cowboy hat instead of a boot and they'll have an easier time making it in.
Hay Search
Spread out a couple of bales of hay, mix in a large quantity of wrapped candy or small toys, and let the kids search through it to find the treasure.
Note: This makes a good outdoor activity. If you don't want to rake up the hay or leave it in your yard, put it on a tarp to make for easier cleanup.
Pin the Tail on the Donkey
You can go with the traditional donkey or try a variation on this classic party game. Try 'Pin the Badge on the Sheriff' or 'Pin the Mustache on the Outlaw'!
Tin Can Shoot 'em Up
This game requires squirt guns and targets. For targets, try empty cans or soda bottles - something fairly easy to tip over. Set up a few targets and have party guests take turns trying to knock over the targets with the squirt guns.
Another variation of this is to make targets out of crepe paper - whatever shape you like - and have the kids all fire at their targets at once. First one to put a hole in the target wins.
Horseshoes
This is an easy-to-play outdoor game. You can use kids horseshoe sets with non-metal horseshoes so no one gets hurt.
Rodeo Ridin'
Play this with hobby horses. You can make your own with brooms, or just use plain brooms and imagination. Have kids run through an obstacle course with their 'horses'. Use bales of hay for obstacles to jump over or run around for added western flair.
Cattle Roundup
Use your hobby horses from the Rodeo Ridin' activity (above) and balloons. Split guests into two teams, and give a hobby horse to the first person on each team. Put a balloon (the steer) in front of each of them, and have them maneuver the balloon through a course (or across a room) while staying on their 'horse'. They go through the course and back, giving the horse and steer (balloon) to the next person in line.
Western Cowboy Vests
Make these out of paper grocery bags. Cut a slit up the front, round the neck, then cut out arm holes and you have a free cowboy vest! You can let the kids rip fring on the bottom, or decorate as they like.
Western Party Favors
Squirt Guns
You can use these for party games or send them home in loot bags.
Sheriff Badges
Sheriff badges make great rewards for party games.
Handcuffs
Toy handcuffs are always fun for kids.
Cowboy Hats
Hand out cowboy hats as guests come in so they can wear them at the party. Kids will enjoy playing with these long after the party is over.
Bandanas
Hand out western style bandanas as kids arrive so they can wear them at the party.
Other Loot Bag Toys
Plastic cowboy figures
Toy snakes
Harmonicas